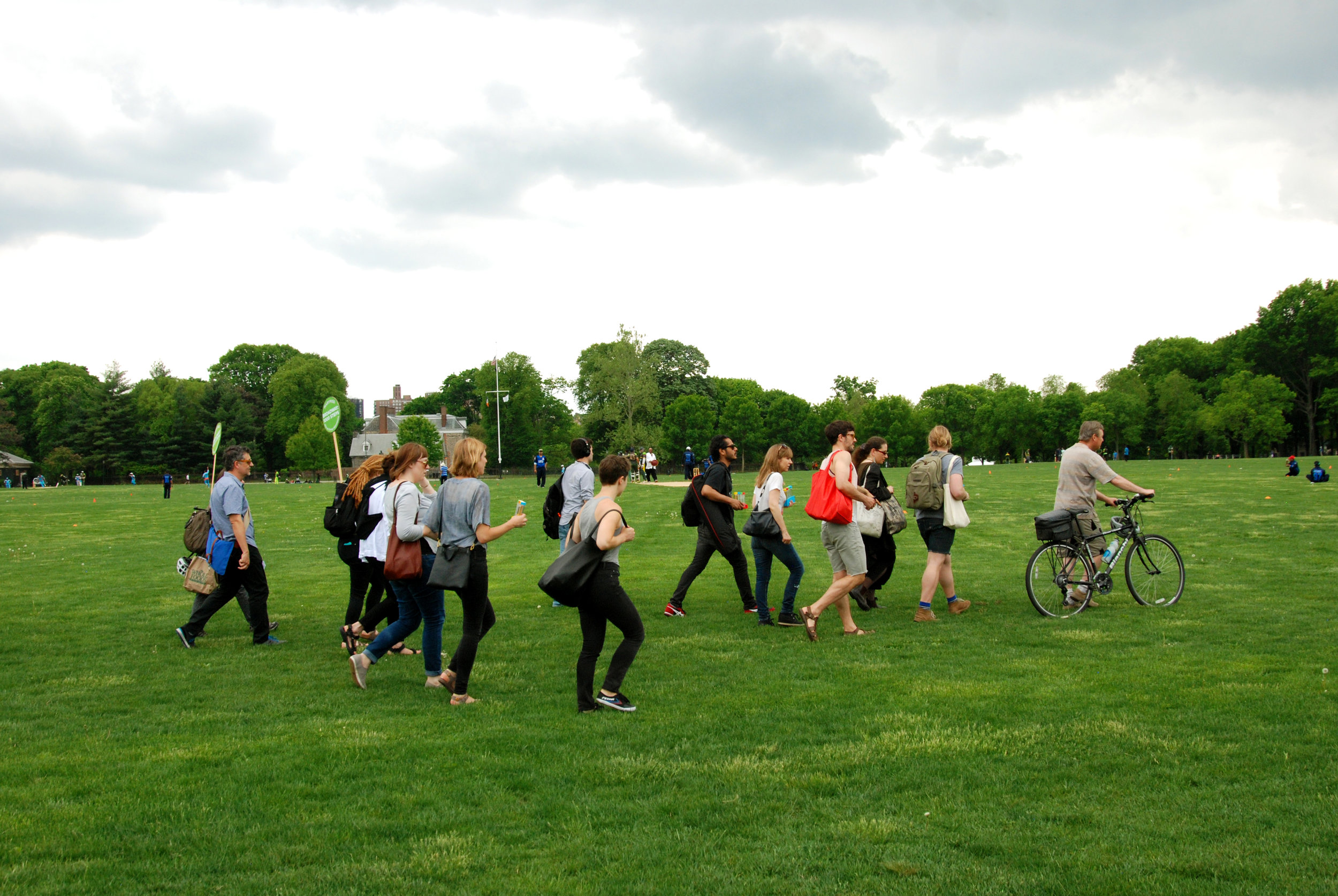 City as Living Laboratory (CALL) to partner with creative thinkers in six cities to catalyze urban sustainability efforts through CALL/WALKS on May 4 and May 5.
NEW YORK CITY (April 14th, 2019) – NEW YORK CITY (April 9th, 2019) – There is no better time to see the world around you with new eyes than the Spring. CALL is bringing together a range of artists and scientists this year, to engage with six different communities on the first weekend of May nationwide. On May 4 and 5, nine CALL/WALKS will take place in six cities including Washington D.C., Baltimore, Santa Fe, Milwaukee, Pittsburgh, and New York City. Community members and change makers are invited to take a walk and immerse themselves in the urban environment with artists and scientists to transform the way we see the familiar surroundings.
CALL has been conducting artist and scientist led walks focused on uncovering hidden ecologies and challenges and generating innovative ideas for sustainable urban futures since 2012. Since then, CALL has led 65 different walks up and down the corridor of Broadway in New York City, Milwaukee, and St. Louis. This year CALL launches a national network of organizations committed to re-envisioning cities through broad-based, artist-led coalitions of designers, scientists, engineers, area experts, community leaders and more. Together, we are creating a Toolkit which will be made available for organizations across the country, large and small, to deliver innovative programs aimed at cultivating more sustainable cities.
"The WALKS aim to bring together a diverse constituency of local people in partner cities and demonstrate our approach to addressing complex environmental concerns," said Mary Miss, Founder & Artistic Director, City as Living Laboratory. "Ultimately, we want to build a national network of like-minded organizations and supporters to create greater impact."
"Both the deep ecology and the artistic grace of our urban areas are too often unseen or under appreciated. CALL/WALKS are an important way to overcome these deficiencies and immerse us in appreciating and improving our urban environments," said Steward Pickett, CALL Board Member and Urban Ecologist at the Cary Institute.
Creative thinkers working with CALL partner organizations will engage the public in walking dialogues covering environmental issues from nuclear history to the rising seas and from food systems to gentrification and climate change.
Alexandria/ DMV
In Old Town Alexandria, artist Katie Kehoe and meteorologist Jagadish Shukla will explore this historic community by reflecting on its relationship to the Potomac River. She will invite shared experiences with flooding, and consider what actions are in the works to support community members and businesses faced with the prospect of rising seas and extreme weather.
This walk is being hosted by George Mason University Provisions Library, organized by Senior Curator Don Russell.
"Socially engaged work gives people the opportunity to think like an artist; it isn't necessarily going to provide any answers but will pose more interesting questions" says Don Russell, walk organizer.
Baltimore
In Baltimore, the Maryland Institute College of Art (MICA) will host two CALL/WALKS.
On May 4th, artist Jann Rosen-Queralt and ecologist Lea Johnson will examine the interconnected ecology of the Jones Falls watershed, highlighting the way species, water, and energy move through the landscape.
On May 5th, artist Miguel Braceli and Steward Pickett, distinguished senior scientist at the Cary Institute, will lead Lake Roland: Living Boundaries. This walk explores the scientific, artistic and social principles of absorption at Lake Roland, a defunct reservoir surrounded by parkland at the edge of Baltimore City. Delving into both ecological and social issues, this walk will examine the relationship between people, land, and water, through the frame of exclusionary urban planning.
Artist Miguel Bracieli Says, "This project reflects on the correspondence of human actions and their consequences in a territory between performance and collective participation. Through sensory experience and consideration of associated social and environmental problems, this WALK will bring people closer to an understanding of their immediate environmental context."
Milwaukee
Northwest Side Community Development Corporation will host two CALL/WALKS on May 4th organized in collaboration with CALL's WaterMarks team. Both walks will deepen community conversations that address water-related issues, engage neighbors, and advance Milwaukee's visibility as a global freshwater hub.
The first walk, Connecting Water & Art in the Garden Homes Neighborhood, will be led by artist and designer Fatima Laster and engineer Jerome Flogel. During the walk they will explore the historic Garden Homes Neighborhood along with its public art and green infrastructure features. The walk will focus on the neighborhood's resilience after historic floods in 2008 and 2010 and how the Milwaukee Metropolitan Sewerage District (MMSD) is working to reduce flood risk with green infrastructure.
The second walk, Reclamation & Restoration in the 30th Street Industrial Corridor, led by artist Portia Cobb & environmental engineer Tory Kress will envision the future of Milwaukee's 30th Street Corridor. Formerly an industrial powerhouse of city, the Corridor was home to tens of thousands of manufacturing jobs, many of which have since left, leaving economic hardship and vacant land. The start and end point of the walk will be Green Tech Station (4101 N. 31st Street), a parcel undergoing significant transformation into a model for advanced green infrastructure.
"We're really excited to be organizing these walks that highlight connections between water, green infrastructure, community members, art, and economic development. Northwest Side Community Development Corporation often works at the intersection of these initiatives; the two CALL/WALKS will be a way for community members to see how everything comes together," said Sarah Bregant, Community Development Specialist at Northwest Side Community Development Corporation.
New York City
CALL/City as Living Laboratory will be hosting three walks in our home city.
On Saturday May 4th, designer Stephen Fan and economic botanist Valerie Imbruce will lead a walk through the food markets in NYC's Chinatown. This walk will highlight what's resilient and vulnerable in the way food provisioning works in Chinatown, addressing the central question: How has the Chinatown food system shaped agricultural and urban development?
On Sunday May 5th, CALL will present a walk in the Van Cortlandt Park neighborhood of the Bronx. These walks will help to further inform our ongoing initiative to raise awareness about a proposal to daylight Tibbetts Brook and engage the community directly in the design process for a resulting linear park.
The Tree & I, will be led by artist Nicolás Dumit Estévez Raful and John Butler, cartographer and Ecological Project Manager for Friends of Van Cortlandt Park. On this experiential walk, participants will be guided through an unfolding series of performative exercises seeking to kindle one's intimate relationship with trees. Butler will provide context on the restoration of the riparian zone in Van Cortlandt Park, and the impact daylighting Tibbetts Brook will have on local ecosystems.
"CALL is unique in bringing artistic talent to galvanize citizen engagement. By bringing together artists and scientists, CALL facilitates innovative explorations to uncover hidden ecologies and help citizens envision a more sustainable future for their community." said Olivia Georgia, Executive Director, City as Living Laboratory
Pittsburgh
The City of Pittsburgh Planning Department, led by Ray Gastil, will be hosting a unique opportunity to explore the site of a potential new park. Walking the Urban Wilderness will take place in Hays Woods, a large tract of former industrial land that has mostly reverted to forest. Led by artist Natalie Settles, ecologist Charles Bier and landscape architect Kara Smith, this walk will examine the natural features of the site in the context of its past as a former coal mine and its future as a city park, with the idea that it will become a living laboratory for urban forestry, conservation, and recreation.
"The transformation of Hays Woods is a long-term investment in the future of the people who live and work in in Pittsburgh and the greater region. With this, it will continue to provide a compelling experience of nature in the city. It will have an extraordinary concentration of views, landscape, and natural environment that typify Western Pennsylvania." says Ray Gastil, Director of City Planning for the City of Pittsburgh. "The Hays Woods CALL/WALK is an opportunity to learn about where we live through a new vantage point- the actual ridgeline of the future park - and the different conceptual perspectives of the walk leaders."
"Walking the Urban Wilderness at Hays Woods will be an interesting opportunity to explore a large acreage of old industrial land that has reforested itself, at an exciting turning point in the site's history - from environmental exploitation and abandonment to a new focus on restoring natural ecosystems and more benevolent connections between nature and culture," says Kara Smith, Principal Environmental Planner for the Pittsburgh Department of City Planning.
Santa Fe
Led by artist Andrea Polli and scientist Luis Campos, Atomic Stories will look at unique crossovers between the nuclear history of the region and how its continuing impacts have been represented in popular and traditional cultures and the arts. It will invite participants to imagine new ways to represent this complex history and possible futures.
This walk is hosted by Santa Fe Art Institute in collaboration with BioCultura.
Lead artist Andrea Polli says, "Conducted by leading experts in the field, this walk will examine the complex and controversial history of atomic technology in our region from a scientific, social, and cultural perspective."
CALL/WALKS at a glance
About City as Living Laboratory (CALL)
City as Living Laboratory was founded by renowned environmental artist Mary Miss. CALL's mission is to create more livable cities of sustenance through the arts. CALL has developed a FRAMEWORK for collective action to engage multi-disciplinary teams and urban residents in initiatives that raise environmental awareness and sustainable development. CALL's strategies are based on the values of inclusion and equity and are grounded in place-based experience that makes sustainability personal, visceral, and tangible. For more information about CALL, please visit https://www.cityaslivinglab.org/.
City as Living Laboratory is grateful to the National Endowment of the Arts, Our Town program and to the Andrew Mellon Foundation, whose support has made the expansion of the CALL/WALKS program and the CALL/FRAMEWORK possible.
Media Contacts
Olivia Georgia or Liza Cucco
externalaffairs@cityaslivinglab.org
212-966-4287
Social Media
@cityaslivinglab / #CALLwalks
About CALL's Partners
Alexandria: Provisions Library, George Mason University
Provisions is committed to exploring new models for art and culture that lead to a more inclusive, equitable, and connected society. From its library home in George Mason University's School of Art in Fairfax, Virginia, Provisions' educational and research programs produce socially-engaged projects at sites throughout the US Capitol Region and across the globe. Projects include exhibitions, public art, residencies, screenings, workshops, lectures, curricula and publications. Participants include artists, activists, academics, students, professionals from a variety of disciplines, and everyday people.
Provisions partners with organizations, artists, scholars, activists and students to develop and amplify new narratives and experiences across cultures utilizing grassroots modes of creative action to build knowledge of social change in its artistic and creative dimensions. The library, public programming, and research opportunities host artistic, intellectual, and activist endeavors that explore the educational and social promise of contemporary culture.
Baltimore: Maryland Institute College of Art (MICA)
Acknowledged nationally as a premier leader in art and design education, MICA is deliberately cultivating a new generation of artist – one that is capable of seamlessly integrating innovation, entrepreneurship and creative citizenship with contemporary approaches to art, design and media. MICA is redefining the role of the artists and designers as creative, solutions-oriented makers and thinkers who will drive social, cultural, and economic advancement for our future.
As the oldest continuously degree-granting college of art and design in the nation, MICA is located in Baltimore, deeply connected to the community. It is a leading contributor to the creative economy regionally and a top producer of nationally and internationally recognized professional artists and designers.
Milwuakee: Northwest Side Community Development Corporation:
The Northwest Side Community Development Corporation (NWSCDC) has served the economic development needs of Milwaukee's low-income communities since being founded in 1983. Some of NWSCDC's major activities include business lending and technical assistance, neighborhood strategic planning to improve safety, land use planning and development to spur economic growth, and working on green infrastructure projects to reduce flood risk and improve quality of life.
Pittsburgh: The City of Pittsburgh Planning Department
The Department of City Planning works to create and maintain an orderly, timely, environmentally-sustainable, and consistent approach to land use and development within the City. To achieve this end, Planning works with communities, civic organizations, and public entities to develop long-term plans to sustain and revitalize a thriving city of neighborhoods for the people who live, work, learn, and visit here.
Santa Fe: The Santa Fe Art Institute (SFAI)
SFAI's mission is to cultivate creative leadership, and to invest in community, culture, and place to reimagine a more equitable world. Founded in 1985, SFAI is an independent, non-profit, cultural organization, whose leaders believe that creative minds need an intentional, cultivated, environment to evolve their own practice, and that practice, if given the opportunity can have tremendous social impact.
SFAI believes in artists and creative practitioners as catalysts for positive social change. We are committed to supporting creative practices that offer fresh insight and innovative strategies in response to critical national, global and local problems, and to providing access to marginalized and underrepresented artists. We facilitate meaningful social change through sponsored residencies and artist fellowships; public programs featuring interactions with artists, activists, and community changemakers; exhibitions; roundtables; community art actions and community projects; and educational outreach for adults and young people.
End